Generic x86
Jump to navigation
Jump to search
VM Ware
Meteohub can be used as virtual machine with VMware Server 2.0 (or never), VMware Player 2.5 (or never) and VMware Workstation 6.5.1 (or never). This allows to try Meteohub without buying hardware. In case of an already 24/7 running server one or more Meteohub instances can be hosted with very limited additional resources.
Download section has a compacted image of a VMware guest instance, that can be used inside a running VMware environment.
Installation on VMware Player 2.5 and VMware Workstation 6.5.1 VMware Player can be downloaded and used for free from "www.vmware.com". After having installed this, the following steps have to be done:
Download RAR archive containing Meteohub VMware image from section "x86 Meteohub Disk Images".
Extract files from RAR archiv.
Start VMware Player or VMware Workstation.
Select "open" and load "vmx" file from extracted Meteohub VMware image.
Choose "I copied it", when being asked (only WMware Player).
During boot of virtual machine USB components connected to the PC will be displayed. One of these should be the connected weather station and/or USB webcam. Make the needed components connected to Meteohub by selecting corresponding icons on the lower right border of VMware window and setting these as not being connected to the host.
When boot has finished "meteohub login:" is displayed. IP of virtual Meteohub is displayed as "inet addr" directly above login request. When "inet addr" line is missing, Meteohub failed to establish an IP address. Please check with network icon on the lower right border of VMware window, if ethernet is connected to Meteohub. If not, please click with right mouse button on the icon and select "connect" and restart virtual machine.
Remark: It depends on power of VMware host if USB webcams are supported by Meteohub in a virtual environment.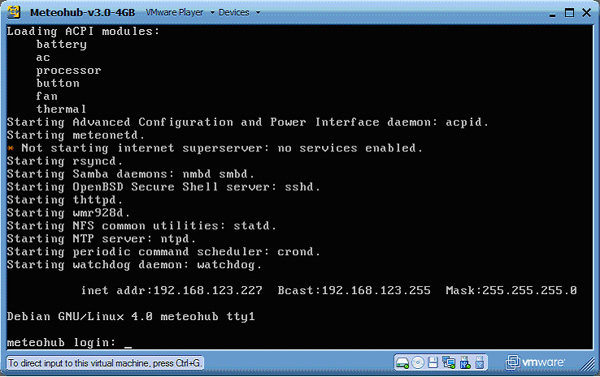 Home-Brew Ports
Meteohub has been tested and ported on "official" platforms NSLU2, ebox 2300/3300/4300, fit-PC Slim, ALIX.1D/3D2 and SheevaPlug. On these platforms Meteohub can be easily installed by a predefined disk images. You will not need any Linux knowledge to do this. Taking a generic x86 version of Meteohub an advanced Linux user might have the option to install Meteohub on other x86 platforms as well. If you have an unused, low-power, old PC somewhere around, this might be converted into a Meteohub system without too much of an effort, as far as you are quite familiar with Linux and the processor is at least a 486 type.
You will find a documentation how to do this here: OS_Obligations#Meteohub_on_x86_Platforms.
Please understand that "meteohub.de" cannot support you when trying an installation on unknown hardware. You will need some in-depth Linux knowledge to get it working. As Linux itself and meteohub installation scripts are completely open, this can be done when you have sufficient Linux skills.
Good Luck!